Part 9 GWLU/GW Inc Legal issues Gillian Fryer posted 5 months ago
17 community members showed up for the town hall meeting to discuss incorporation. This was the largest turn-out I had seen in years, possibly ever at Greater World. A number of members who disliked politics and unrest, attended, so this was a serious issue to a lot of people.
The board canceled the meeting with NO notice of any kind.
That shows you the respect that the Board had for the community members.
Since we were all standing around discussing what to do, we decided to stay and hold our own meeting. Unlike the board, I hadn't planned what happened... I winged it.
With the help of Sally, I told them EVERYTHING. Almost everyone wanted to say something and everyone had the opportunity to speak. Everyone was treated with respect and there was no shouting or unrest. This was the most productive meeting I had ever attended at Greater World. It was clear that community members could discuss issues politely, so the problem was NOT the community members, was it? The attendees concluded that we needed our own attorney. We planned to meet again in another week.
Although the board said they would reschedule, there never was another meeting.
I never heard anything from the other board members about this or subsequent plans.
I have to point out again, that the invitation email for the cancelled meeting stated that once community input was analyzed:
the community members would have 30 days to vote
a quorum of ballots must be received
a majority of that voting determines the outcome.

On 9/19/19 morning, Amy sent out an email to the other board members asking for approval to verify with Emery that they could incorporate without community approval. It appears this had been the plan all along.

The same day, the board sent out an email notifying the community that Nicole had resigned and that we would soon be receiving our dues statement. There was no mention of the canceled meeting any further plans.
The only board chatter talked about the pending approval of a proposed build. During that conversation, I said I could not attend a meeting over the weekend as I would be out of town from Friday 9/20 to Monday 9/23/19.
On 9/21, I received this email from Amy, to which I replied that I wasn't interested. This was early in the morning, just as I was setting up another class at Whittington. She already knew I was out of town when she sent this.

The board continued the mindless chatter, even as this email came in to the community: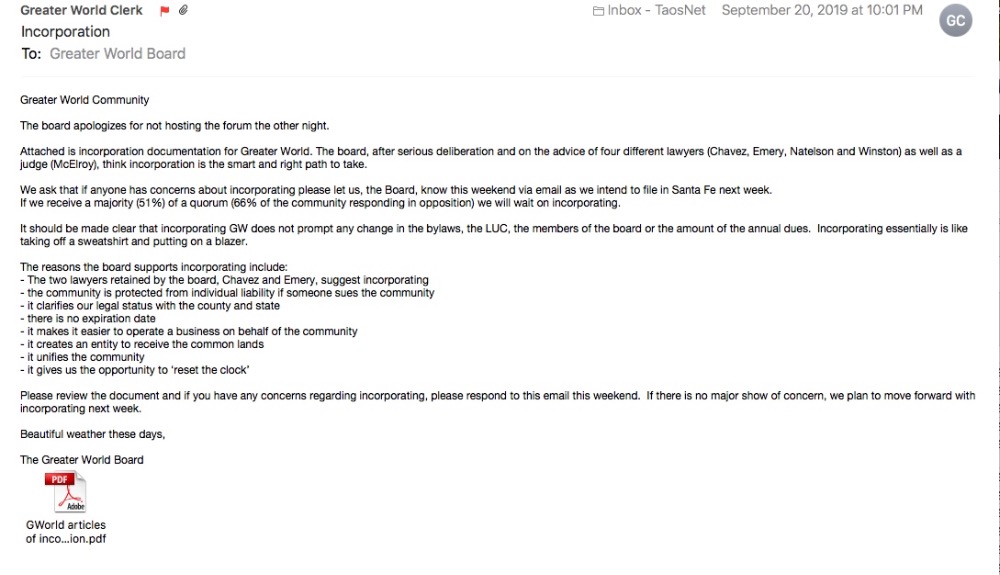 Notice here, the board changed the terms of voting to require a majority of a quorum AGAINST incorporation in order to defeat incorporation. This was sent via email (the board did not have all member's emails, and ALL previous voting of any importance had always been done via mail) on a Saturday (when they knew I was out of town) and they stated they would incorporate the following week.
They didn't care if a quorum was NOT achieved, because according to these revised rules, incorporation was the default result even if no one responded. This was in direct violation of our original GWLUA documents, which clearly required a 75% written agreement to continue the GWLUA (or any offspring.)
Zac and Alicia sent the board email and certified copies of the 43 unique signatures against incorporation, which was a slight majority of the members. Many members voiced their opposition via email, but many told me that they did not get the original incorporation email at all or they were out of town and away from any internet connection during that time. Add to that, there was a nationwide internet interruption over the weekend.
The board filed incorporation documents electronically at 8:30 on Monday morning 9/23/19. They had not even allowed the community ONE BUSINESS DAY to respond!
This is an email that John LaSala sent to a community member on 9/24/19, calling the response 'tepid.' He sent it through the board email, so he wanted me to see this.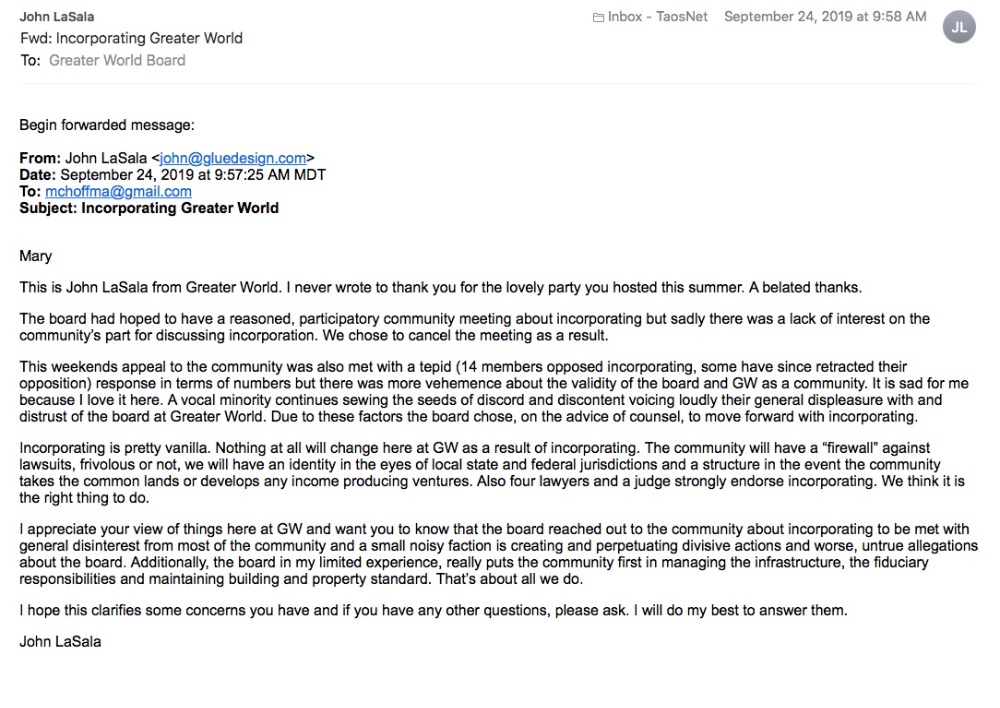 On 9/24/19. Emery sent Amy his response to her query about incorporating, saying that it was OK to incorporate. (Apparently he also talked to her on the phone.) It notes that the Court (McElroy) "has signaled the propriety of the Association taking over from the declarant," so my assumption that Emery believed that the GWLUA had NOT expired per Natelson, was accurate. Emery took Natelson's statements to mean that the GWLUA was a legal entity at the time of his conversation with Natelson. As I already stated, McElroy refused to rule that so as of 8/30/19, after the conversation occurred.
https://www.greaterworldcommunity.org/file/document/2850934796/gW9T4nLCSz8DCPh2.pdf
Are you pissed yet?
---