GWLUA/GWInc it just never ends Gillian Fryer posted 4 months ago
This is so complicated that there is no way the average person with a life could ever have untangled this web. Even after several years of studying this and then setting it aside, I still discover new issues.
This is major:
Issue 1: Who formed the GWLUA?
The GWLUA was formed an unincorporated association under NMSA 53-10.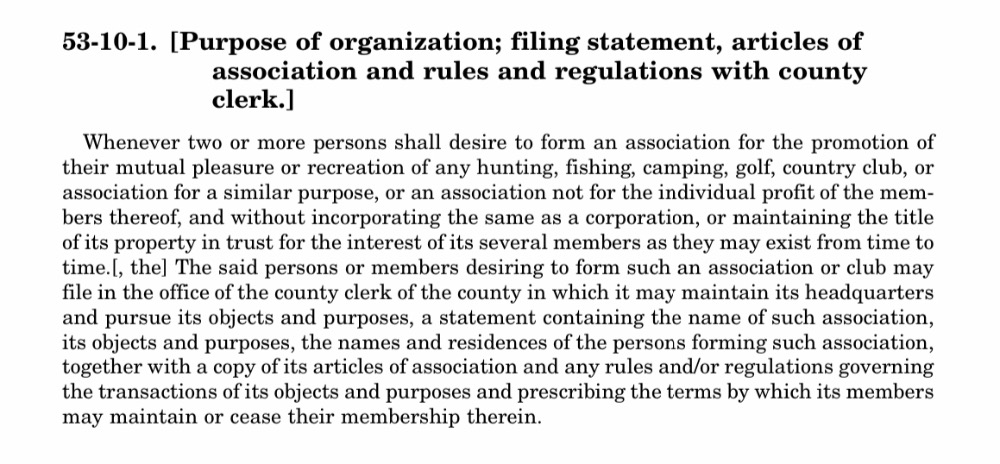 Here is the first paragraph of the law:
The first thing it says is "whenever two or more persons shall desire to form an association…"
Look at the GWLUA documents. Who are the two or more persons? Mike is one. Who is the other? There is NO ONE else listed on any document!
NMSA 53-10 is violated. The law is literal. ALL GWLUA documents violate this law because a second person is never recorded as agreeing to the formation of the association.
I can't believe I never noticed this before!
Also, the final line in that first paragraph talks about the members making the rules, including the "terms by which it's members may maintain or cease their membership therein."
This means that members get to determine how to get into the club and how to get out. A club cannot require membership. There is no way that this law can be used to force membership on anyone who doesn't agree to it. By extrapolation, there can be NO PENALTY for refusing to be a member. If GWinc was created as an offshoot of the GWLUA, the same rules would apply: GWInc cannot force membership and cannot penalize those who refuse membership.
Issue 2: The repercussions of Mike refiling GWLUA documents.
This has plagued me for years: why did Mike refile entire sets of documents when amendments would have sufficed? He now says, that doing so restarted the statutory clock for how long the GWLUA could run. I've finally figured this one out….
Mike originally created the GWLUA in April of 1994. The 1994 Articles of Association of the GWLUA state at Article VI, that a board will be created within 7 years. The 1994 Bylaws of the GWLUA, Article V, § 3, state that a board will be created within 5 years. Either way, a board was mandated by 7 years at the most, or 2001.
What happened in 2001? Mike filed new GWLUA documents. In these documents, Mike says there will be a board only after 90% build out.
IF Mike had filed amended documents, this change, eliminating the board for years, would have been apparent. By filing entirely new documents, he was able to hide this change and it was unlikely anyone would notice for years. To make matters worse, Mike issued new membership agreement forms more than a year after he had already filed these documents against the properties of the members. It was only then that members were asked/forced to agree to new terms they knew nothing about. It's deceitfully brilliant.
Mike didn't intend to restart the GWLUA: that idea only came to him when the Rhines lawsuit was filed. Mike wanted to maintain control over the community indefinitely, and filing the documents this way, enabled him to do so.
Issue 3: The Board's Power.
NMSA 53-10 says that the members get to determine the rules, but we never did. Instead, Mike gave himself, and eventually his board, almost limitless power as shown in this clip from the 2003 bylaws.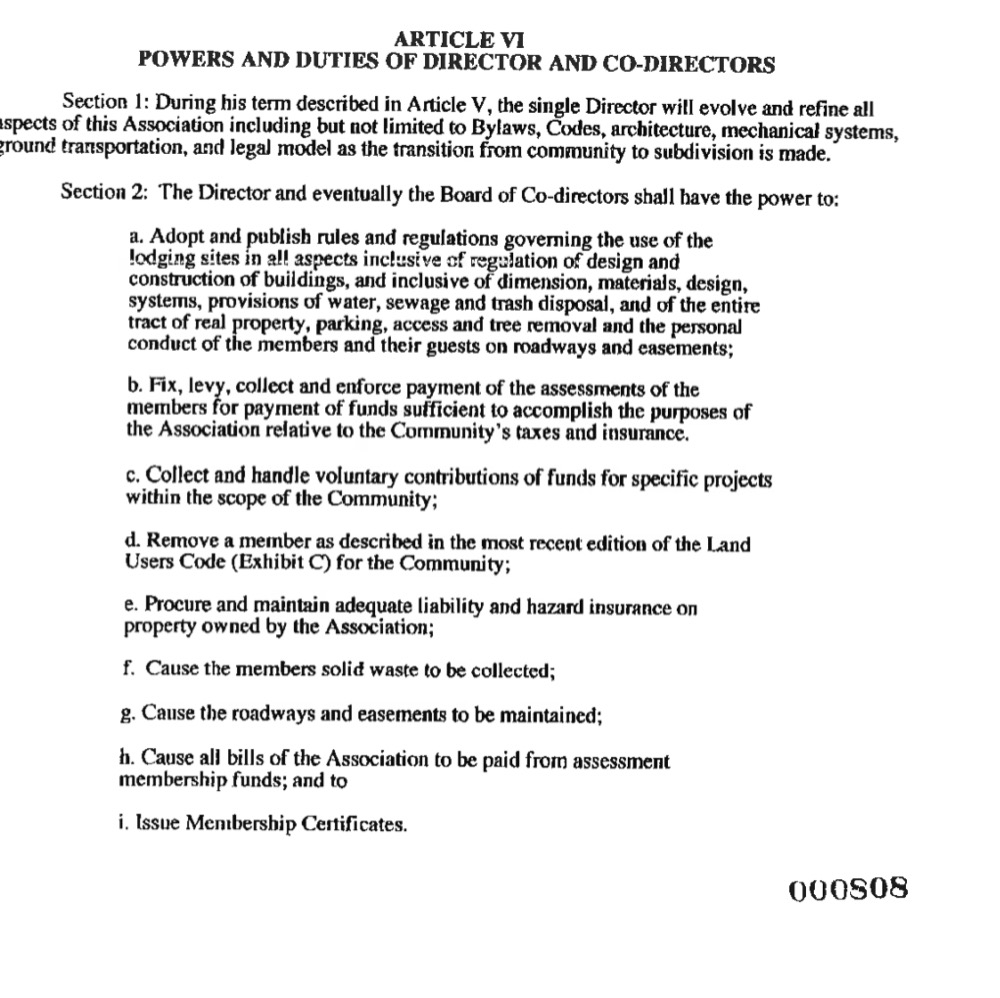 Note one of the details: it says that the director and eventually the board, shall "adopt and publish" rules and regulations.
Having secret rules that no one knows about isn't going to accomplish much.
There is no published rule book that has ever been distributed to community members, so that they would be timely made aware of such rules. I've gone through old minutes of the earliest Board in 2005, and there is no documentation where the board reserved the right to scrutinize building permits prior to filing a permit application with the county. There is no documentation of a board vote to pay for property taxes for land that is titled in Mike's name. There is no recorded vote to agree to pay for road maintenance (in direct violation of the 2003 LUC.) Mike did send out minutes where road maintenance fees were discussed, but there was no recoded vote to initially levy such fees. If Mike made up all these rules before he appointed the board, he didn't "publish" them. Of course, that doesn't even begin to address the fact that such rules were self-serving and violated his fiduciary duty to the community.
These are major issues of community concern, that one would expect to have been added to the community documents as amendments. Any rules that directly contradict our documents, required an amendment to be legally binding. Also, I consider the LUC to be superior to all the other documents in the even of a conflict, because the LUC had no expiration date, unlike the GWLUA documents. Anyway, no amendments regarding these issues were ever filed.
If there is no record of a vote and no record that the community was informed of these rules, whenever they were made, how can they be enforceable? The answer is they can't.
I realize that much of this is now moot, since the GWLUA is no more, however the existence of GWInc rests on the legitimacy of the GWLUA. I think I've discovered that the GWLUA was void simply because only one person, instead of the required two or more, agreed to its formation. I know this sounds crazy simple, but the law appears to read this way.
It also appears that 53-10 cannot be used to force membership on anyone, and therefore GWInc cannot force membership on anyone. This means GWinc cannot penalize anyone for non-compliance.
I will have to redraft my letter to the GWInc board declining their invitation to admission into their organization




---