Part 2: GWLUA/GW Inc Legal Issues Gillian Fryer posted 8 months ago
The initial GWLUA documents created in 1994 are contracts. In order to be enforceable, the agreement to create the GWLUA must have been signed by all members when the GWLUA was created. If you look at the document, the only signatures are those of Michael Reynolds and a notary. I am sure that everyone who was part of the early Greater World agreed with Mike's vision, so it should not have been difficult to have obtained those signatures.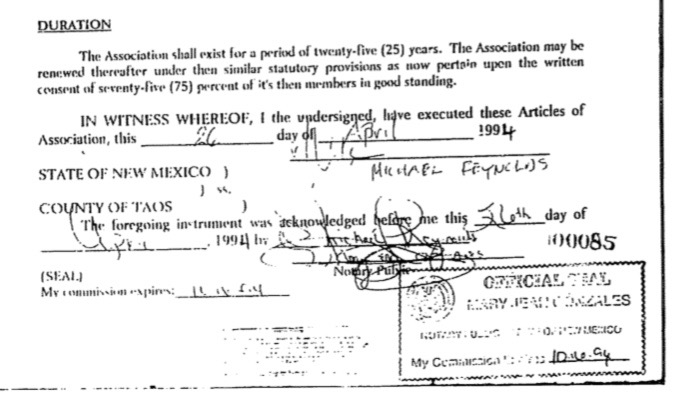 In order to move on, we have to assume that the original documents were legally binding at the time of their creation...
NMSA 53-10 controls the creation of the GWLUA. It also dictates the activity of the GWLUA during its existence: the members determine policies and enforcement and expenses paid and fees levied. I challenged Mike about this in 2018 and he said that we were represented because we had a board. In fact, Mike makes it clear in the original By-Laws, Art 5 §1, that he is the sole director for the first 5 years.
The Articles of Association Art 4, §A, charges the members of the association with collecting and paying for property taxes and expenses. This is for lands solely listed in Mike's name, which makes him THE legally responsible party and benefactor of any proceeds generated from the property. At that time, none of the property was owned privately by any member, so I can only presume that Mike divided all land expenses by the total memberships. I equate this with an annual lease expense, as that is the only way I can justify it in my legally focused mind.
It sure looks like Mike initially made all of the rules and levied all of the fees.
Recall I said that the original board was supposed to be created some time between 1999 and 2001 -- the documents conflict on this.
No board was created during that time. Mike was a little pre-occupied: Taos county sued him for running an illegal subdivision. There was a moratorium on all building at Greater World. Mike ultimately lost the case, so Mike then spent a couple of years challenging the subdivision laws at the state legislature. This is the subject of the movie Garbage Warrior, which paints Mike as a David fighting against Goliath. In reality, we are the Davids, and Mike has become the Goliath.
Mike was successful, so he then obtained a series of variances from the county to give him even more leniency with regard to the subdivision laws.
A normal developer obtains a permit and then installs the infrastructure of power, water, sewer and telephone lines. Mike didn't do any of that because Earthships don't need any of that stuff because they collect them from nature. Recall this was before the days of cell phones, so the community had no form of communication.
Mike says we average 7-8 inches of moisture a year. In my house, 7.5 inches average equates to about 7500 gallons of water a year, or 144 gallons a week. We do one load of laundry a week and we each take one shower a week. That uses 75 gallons, leaving 69 gallons or 10 gallons a day for all washing, cooking, drinking and incidentals. That is barely enough. Yes, we can buy water, but that is NOT infrastructure as required. Mike claimed that we had enough water out of the sky to survive, which is technically true if survival just covers drinking water. But we don't have enough to live a normal modern life, at least during times of drought, like over the past year when we only got 6 inches of rain. FYI, we are currently on track to get a little over 5 inches of rain, so let's all pray for a good monsoon!
Mike was also allowed to postpone surveying any lots until they were sold, and he was allowed to install roads as development necessitated. He got a variance for the width of the roads and the size of the cul-de-sacs. I measured North Earthship Way, Gorge View, High Meadow and Happy Trial and I found that only ES Way conformed to the width requirement of at least 18 feet. Only the cul-de-sac on High Meadow conformed to the radius requirement of 15 feet, and Happy Trial was both too narrow and the cut-de-sac was half the required size.
Mike's engineer filed an affidavit for the lawsuit stating that Earthship Way was built as required: 24 feet wide. But that is NOT accurate! At both the southern land dam and the northern arroyo, ES Way narrows to 20 feet. Something is seriously wrong with his affidavit. Apparently having an engineering license doesn't ensure one is proficient with a tape measure.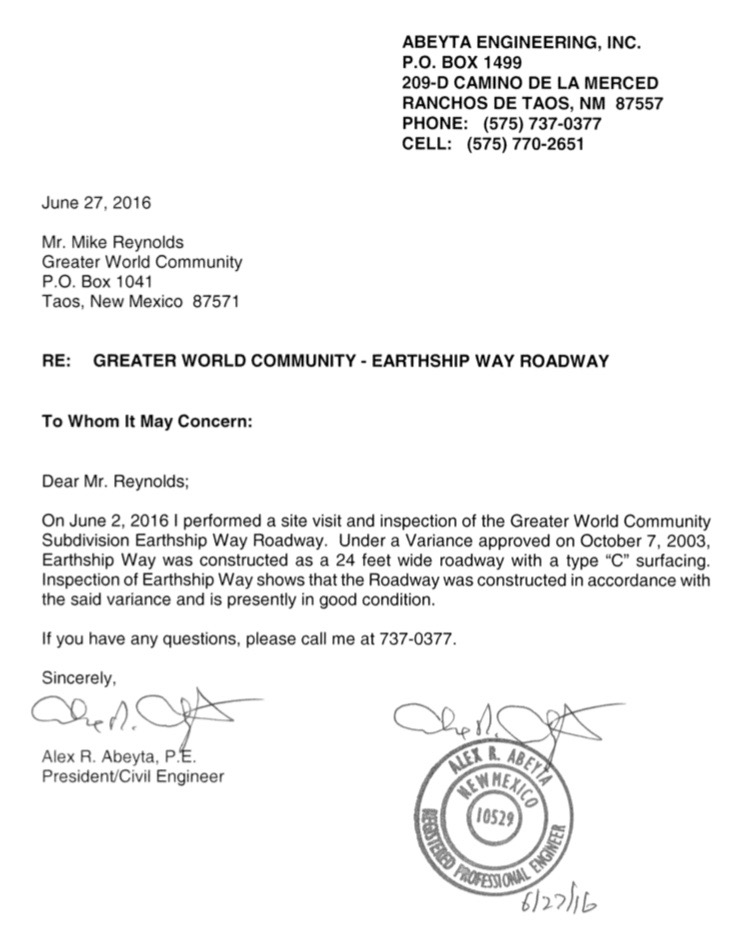 There is also the issue of the initial construction of the road in cross-section. Mike says the roads are now so old that we can never tell how they were built, and it appears he isn't willing to share his receipts. There is one place in the community that is untouched and we can unearth the original road base to see what really happened: the cul-de-sac on Happy Trail! It was abandoned very early on and it has not weathered. 10 minutes with a backhoe and we can see how the road was originally constructed.
To end this discussion, here is a photo of the damage at the land dam after the 2014 flood which washed out some of our roads. Do you see any road base at all here?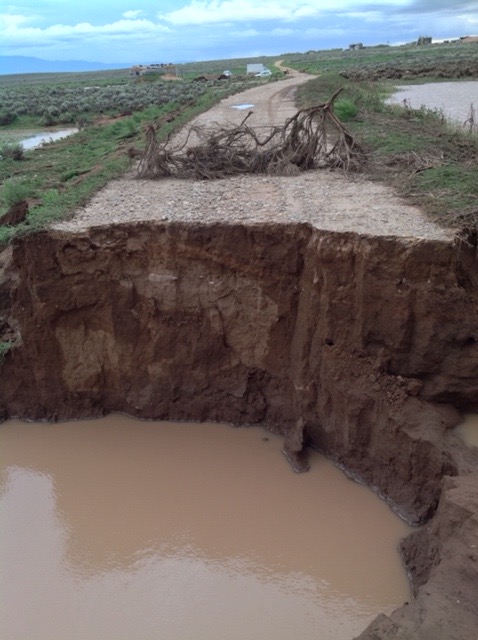 I hope this hasn't been too dry. Please send questions and comments!
---