Part 5: GWLUA/GW Inc Legal issues Gillian Fryer posted 7 months ago
Hi guys. I apologize: I mistakenly called the last post Part 3, when it was really Part 4, but since I can't edit after I post, I just left it. If you look, there are two different part 3s. I should be back on track with this post.
In late 2014, I ran unopposed for the Board... and lost... to Amy Duke, as a write in by Mike and his employees. Amy pointed out that the board had previously voted to limit votes for land-rich members to a maximum of two votes only, and that allowed me onto the board.
A year later, Amy ran for the board and won. She then brought up that two vote limit: she said the board had not passed that rule properly and so it should be voided. She was correct: such a rule would have conflicted with our documents, and would have required a community vote and then a formal amendment to the by-laws. That never happened. Keep that in mind, because it becomes important in 2019, when the board incorporated.
In all elections, other than the one that allowed me onto the board, Mike has had control of the outcome, because he and his employees vote en masse with approximately 15 votes. Historically, the total ballots cast has always been low, so land-rich members have a massively disproportionate effect on the outcome of an election.
When the Board wanted to incorporate, they initially asked for community input. Probably the biggest issue was that every member should have one vote only. Almost everyone agreed that this was the only fair outcome. This had been a bone of contention for decades! Mike lobbied land-rich members to support maintaining their influence. Ultimately, John LaSala said that the need to incorporate quickly was so imperative, that we "didn't have the time" to discuss rule changes!
One of things that struck me when I joined the board, was that there was no guidance: there were no qualifications other than being a member of the GWLUA, there was no guidebook, there were no rules of behavior, there was no need to read our documents, there were no officers, there wasn't even the need to be prepared for meetings. I had been treasurer of several boards in the past, so I volunteered for that. Amy handed me a few monthly statements and a checkbook register that contained half unlabeled transactions and no running balance. It took me weeks of trying to untangle the mess and figure out what had happened. I was appalled. We also never had a budget!
In October 2015, Jody Rhines and two other community members sued Mike and his businesses. Mike immediately emailed copies of the suit to board members and his employees. He then held meetings with small groups of community members, ostensively to discover their grievances, but ultimately it was his attempt at winning the publicity game of Mike versus the plaintiffs. He very successfully turned the board and most community members against them.
The Board just took Mike's word that the case was bogus and that he would handle it quickly. We never scrutinized the case itself to determine if there was any merit. We also did not discuss any of this with the community. Mike certainly took the position that everything the plaintiffs alleged was untrue, and that he had done nothing wrong. He presented this to the community as US against THEM.
In 2014, the New Mexico State Home Owner's Association Act went into effect. We didn't know about it... I've been told that was because Taos County didn't know we had an HOA. Remember Mike was insisting that we were an Land User's Association, not an HOA, and many of us have the 'no HOA box' ticked on our closing documents.
The lawsuit bought out the fact that we were not in compliance with the HOA Act, so I crafted a declaration document claiming that we existed. For months, Mike insisted we didn't need this, but eventually he filed it with the county.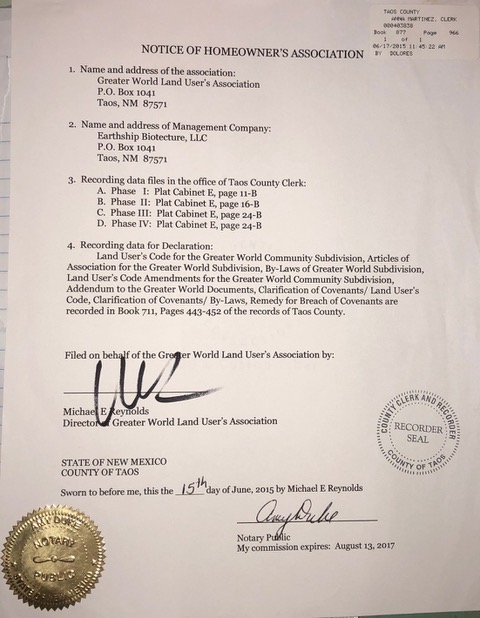 Later, Mike used this same document to 'prove' that we were legitimate. The current attorney for the board, Kelan Emery, actually concluded that this document alone, established the GLWUA as a valid and current HOA. ...One document with only Mike and Amy's signatures? (I still didn't understand the impact of all of this.)
I had realized as soon as I joined the board, that we had a serious problem with consistently enforcing the rules. Mike and his employees got exceptions, and friends of Mike got exceptions. In contrast, people Mike didn't like, were scrutinized unfairly... and the Board enabled this. I remember saying, "if we are not going to enforce our rules, then we should just abolish those rules!" Mike didn't agree.
Over the years, we had problems with a couple of community members flaunting violations for building out buildings and for storing oversized vehicles. These members ignored all our communications. The only alternative left to us was a legal fight, so Mike called an emergency meeting on 8/29/18 at the Waybee. That meeting became a turning point for me. Ostensively, the meeting was to discuss what to do regarding one of these problem members, but in reality, it was an attempt on Mike's part to take back control of the board: he ambushed us.
Board members started quitting in 2016, starting with Judy Sutton. We appointed replacements, many of whom subsequently quit within a few months. At the time of the 2018 Waybee meeting, we had a vacancy. Mike gave us an ultimatum: appoint Judy Sutton (back) onto the board or he would put her on the board regardless. Judy was supposedly more even tempered than Sally Margolin or myself, which couldn't have been more inaccurate. Mike then proposed that we avoid the expense of an upcoming election, by simply allowing Judy to have a five year term on the board. On that, thankfully, we refused.
From that day on, my perspective shifted and I knew something was seriously wrong. I started reading everything: our documents, HOA laws, the lawsuit. I probably researched 200 hours... it was like law school all over again.
It all exploded at the Board meeting of October 2018, when among other things Mike tried to load the board with yet another appointee... making us a 7 member board. Thankfully, David Henry refused. Mike also questioned another appointee John LaSala, though we had just acknowledged Judy. The Board had spent 18 long months working on streamlining and updating the LUC, and Mike said that we had made changes for our own personal interests (though he didn't specify what these might be) so we scrapped the project. Within days, Sally quit.
We clearly didn't have the independent board I thought we had. I saw the lawsuit with different eyes.
I began to realize there was a real problem with the GWLUA and the HOA Act. I lobbied for months to hire an HOA attorney to set us straight. Despite the lump in my throat, I thought the board still intended to do the best for the community and that we could save this. I discovered I was very wrong.
---